Fencing by D. Perrin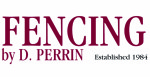 • Quality treated fencing supplied and erected.
• Gates and frames.
• Galvanised gate furniture.
• Concrete and wooden posts.
• Concrete and wooden gravel boards.
• All types of fence panels available (treated).
• Old fencing cleared.
• Excellent quotes returned promptly.
• Professional, tidy and reliable service.