The Bury Knights Junior Chess Club was formed 27 years ago, in September 1992. One of its original founders, Bob Jones, is still its main organiser (pictured right). For the past 20 years, the Club has met every Friday during term-time at Horringer Court Middle School, on the west side of Bury St Edmunds. But on 1 November, the Club will be moving to Moreton Hall Community Centre!
The Club caters for children aged between 5 and 13. Current membership is around 30, including both boys and girls.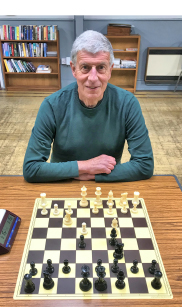 New members are always welcome. Just come along to the Main Hall at the Community Centre on any Friday at 6 pm. The Club will teach children who have not played chess before.
It costs £3.00 per session, but there is a discount if paying for the rest of the school term. There is also a large discount for two or more children from the same family.
For more information about the Club, contact Bob Jones on
01284 811555, or email him at bobjoneschess@btinternet.com.
You can see latest news about the Club on its Facebook page –
www.facebook.com/buryknightschess