Ingredients:

600g Brussels sprouts, trimmed and halved if large
1 tbsp olive oil
50g unsalted butter
2 banana shallots, finely chopped
50g plain flour
750ml semi-skimmed milk
100ml double cream
1 tbsp English mustard
150g mature vegetarian cheddar, grated
40g dried breadcrumbs
2 thyme sprigs, leaves picked
60g blanched hazelnuts, roughly chopped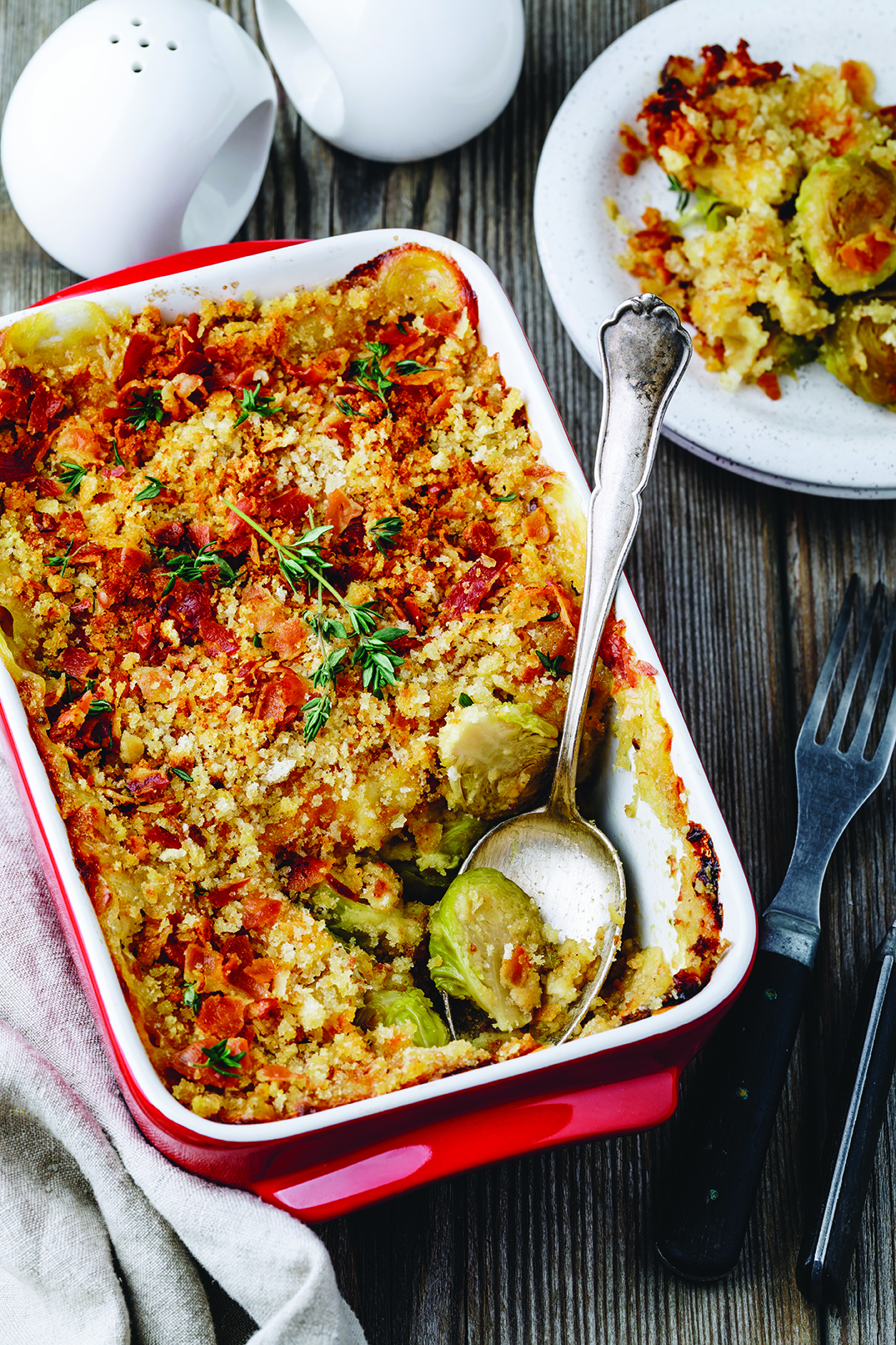 Method:
Bring a large pan of lightly salted water to the boil. Tip in the sprouts and cook for 3 mins, then drain and set aside to steam-dry.
Heat the oil and butter in a medium saucepan until the butter is foaming, add the shallots and cook over a low heat for 7 mins or until softened. Stir in the flour and cook for 2 mins. Remove from the heat and whisk in the milk in several pours, continuously whisking until you get a smooth sauce. Return to the heat and simmer for 2 mins, whisking all the time. Whisk through the cream, mustard and cheddar. Season to taste. Heat the oven to 220C/200C fan/gas 7.
Toss together the dried breadcrumbs, thyme leaves and hazelnuts. Tip the sprouts into a deep 30 x 20cm ovenproof dish and pour over the sauce. Top with the nutty breadcrumbs. Will keep in the fridge for up to 24 hrs. Bake in the centre of the oven for 20-25 mins or until golden brown and bubbling. Leave to rest for at least 10 mins before serving.
TIP: We added some fried bacon bits in with the brussel sprouts so if you have no vegetarians at the table, why not do the same?