LSS and the West Suffolk Lymphoedema Service attended, along with the My Wish charity, the recent Suffolk West Federation of WI's Annual Meeting in the Apex, to raise awareness of Lymphoedema, Lipodema, WSLS and LSS too. Below are Rosie Hunkin, Administrator, and Stefan Currington of WSLS along with Sharon Phillips and Gwen Williams of LSS at their joint stand.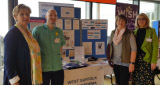 LSS aims to be out and about at more events in 2019 to raise awareness of these conditions and also about LSS as well. Watch out for details of forthcoming events!
The Lepra charity and LSS
The charity Lepra will be speaking at LSS's 3rd June meeting. Lepra is the charity that LSS, WSLS and the Ipswich Hospital Lymphoedema Service all support by collecting old compression garments for re-use. The charity works in India supporting and enabling those who suffer with Lymphatic Filariasis (LF), sometimes known as Elephantiasis. It is a parasitic disease and LF is the second biggest cause of long-term disability in the world. In the countries Lepra works there are millions of people already affected by LF and Lepra are driven by vision, values and strategy to help the children, women and men affected by leprosy and other neglected diseases. Re-using the compressions garments worn by those with the lifelong conditions of lymphoedema and Lipoedema is a positive way of helping others and helps to give yet another purpose for these garments. For more information about Lepra go to
www.lepra.org.uk
LSS Meeting Diary Dates:
June 3rd, August 5th, October 7th and December 2nd
7pm – 9pm at at Moreton Hall Community Centre. Do come along and find out more about living with, and managing, Lymphoedema and Lipoedema in a relaxed and friendly setting, along with a cuppa and biscuit.
For further details LSS and the West Suffolk Lymphoedema Service:
LSS email:
lssuffolk@gmail.com
Facebook Page: LSS@lymphoedema
West Suffolk Lymphoedema Service: wsh-tr.wslymphoedemaservice@nhs.net or 01284 712732
For further details on Lymphoedema and Lipoedema:
British Lymphology Society website – www.thebls.com
Lymphoedema Support Network (LSN) website – www.lymphoedema.org
Macmillan website –
www.macmillan.org.uk