Moreton Hall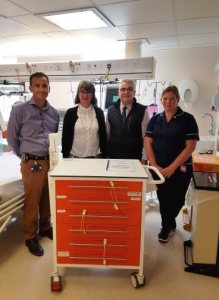 This month our critical care services received a brilliant new piece of equipment thanks to the Freemasons at the Magna Carter Lodge, in Bury St Edmunds. The group raised over £800 at their ladies night to purchase an equipment trolley for the unit after finding out the ward were looking to fundraise for one. The trolley contains critical care medical equipment so when a patient needs urgent care the doctors can take the trolley, no matter where in the hospital, and perform all that is needed to stabilise the critically ill patient. Prior to this, the unit had a bag but it was very heavy and, because it was so full, it made it difficult to find things quickly. It also couldn't hold all the equipment needed meaning trips back and forth to the unit wasting valuable time. Thanks to the Freemasons, this is now a thing of the past. We are incredibly grateful to all who were involved with fundraising for this invaluable piece of equipment, we have already been told what a difference it has made which is just fantastic.
We also have some upcoming events our wonderful fundraisers are putting on to support the hospital, so here are some dates for your diary…
Bonfire Night at The Bennett Arms – Taking place on 10th November at the Bennett Arms Pub in Rougham will be a bonfire night in aid of our Macmillan Unit. Starting at 6pm there will be a 'Best Guy' competition, a variety of entertainment, a BBQ full of traditional bonfire grub, fireworks and of course a bonfire! Entry is by donation so please go along and give generously as it promises to be a fantastic night.
Musical Entertainment Saturday 17th November – Our very own West Suffolk Hospital Choir Lift, are joining up with the St Edmundsbury Male Voice Choir to bring you an evening of musical entertainment at St Johns Church, Bury St Edmunds. The evening starts at 7.30pm and is one you won't want to miss. Tickets can be purchased from Balaams Music or call 01284 719236.
Robbie Gladwell & Friends 22nd, 23rd & 24th November – Presenting Charity Music Nights! Robbie will be making a return to The Quay Theatre in Sudbury along with some of his musical friends to put on three nights of incredible music to raise money for our breast cancer unit. Tickets are just £15 and are available from the Box Office 01787 374745.
If you would like to fundraise for your local hospital then please get in touch with us by emailing fundraising@wsh.nhs.uk, call 01284 712952 or visit our website www.mywishcharity.co.uk
Until next time,
Sue Smith
Fundraising manager