Serve up these amazing sage sausage rolls as a canapé at your Christmas cocktail party. They're the perfect savoury mouthful!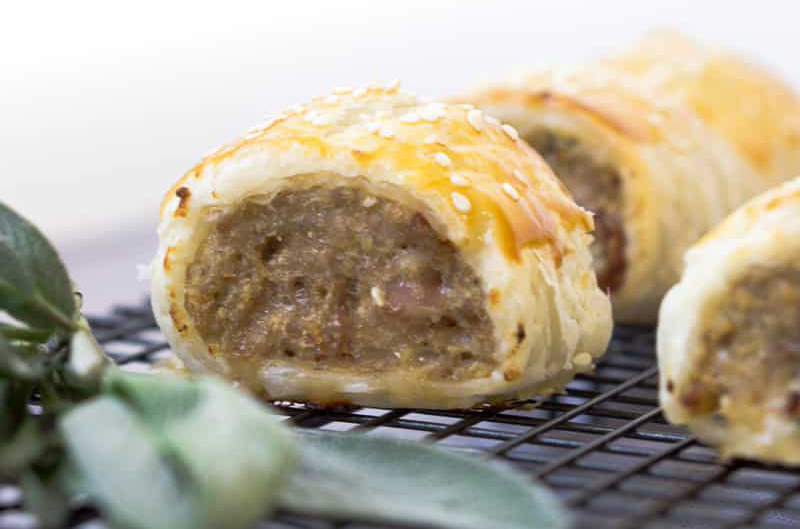 Preparation time: 30 mins
Cooking time: 15 mins
Serves: about 28
Ingredients:
30g salted butter
500g block puff pastry
Plain flour for dusting
1 medium free-range egg,
lightly beaten
For the filling:
450g sausagemeat
50g fresh breadcrumbs
50ml real ale
6 fresh sage leaves, finely chopped, plus 28 small leaves for decorating
Small handful of fresh flatleaf parsley, leaves finely chopped
1 eating apple, cored and grated
Method:
In a big bowl, mix all the filling ingredients together with your hands. Season then chill for 30 minutes.
Cut the pastry in half and roll out each half on a lightly floured surface to a 42cm x 10cm rectangle. Divide the sausagemeat in half, roll each portion into a 42cm log and lay along the middle of each pastry strip. Brush the edges of the pastry with a little beaten egg, then fold over to enclose the sausagemeat, and seal well. Chill for 10 minutes, then, using a sharp knife, cut each log into 14 pieces and place on a baking tray. Brush all over with beaten egg, then top each with a small sage leaf.
Open-freeze, then layer in a freezer-proof container or bag. Freeze for up to 3 months.
Preheat the oven to 220°C/fan200°C/gas 7. Bake from frozen on a baking tray for 15 minutes until puffed, golden and cooked through. Serve warm.