Starter
Mushroom Crostini with Garlic Basil Vegan Ricotta "Cheese" Spread
This party favourite uses a delicious tofu-based basil vegan ricotta spread,
and is topped with a rich mixed mushroom mixture for the perfect bite-size appetizer!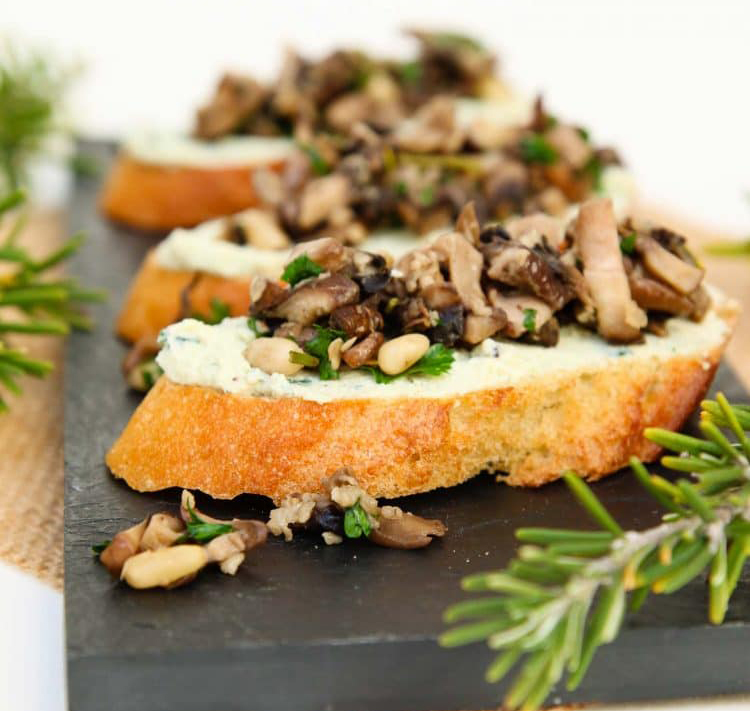 Prep time: 10 mins
Cook time: 15 mins
Servings: 20
Ingredients:
1 sweet french baguette, thinly sliced (or your favorite gluten-free bread)
Garlic Basil Vegan Ricotta Cheese Spread
For the Mushroom Mixture:
8 shiitake mushrooms, finely diced
8 white button mushrooms, finely diced
8 cremini mushrooms, finely diced
8 cloves garlic, minced
1 teasp olive oil
1/2 tbsp white cooking wine
1/2 tbsp fresh rosemary, finely chopped
1/2 tbsp fresh parsley, finely chopped
1 tbsp pine nuts
1/2 teasp salt or more to taste
Freshly ground black pepper
Method:
To Prepare the Mushroom Mixture:
Heat a non-stick pan on medium heat. Add the olive oil.
Add the minced garlic and fry for a few seconds until fragrant.
Add all the finely diced mushrooms and saute on medium-high heat until all the water released from cooking the mushrooms burns off completely. Mix frequently.
Add the salt, some freshly ground black pepper, and combine.
Add the white cooking wine and mix to de-glaze the pan.
Add the freshly chopped rosemary, parsley, and pine nuts. Combine and cook for an additional 1-2 minutes, mixing frequently.
Season with additional salt and freshly ground black pepper to taste if needed.
Turn off the heat and set the mushroom mixture aside.
To Prepare Crostini:
When you are ready to assemble, preheat the oven to 350 degrees.
Place the thinly sliced french bread in the oven and bake until slightly golden on both sides.
Remove the slices from the oven and allow them to cool on a cooling rack .
On each slice of toasted bread, spread a generous layer of the Garlic Basil Vegan Ricotta Cheese Spread , and top with the prepared Mushroom Mixture (both should be at room temperature). Enjoy!
Main
Caramelized Onions, Roasted Aubergine and Tomato Penne Pasta
(Vegan & Gluten Free!)
The sweetness of the onions, combined with oven roasted aubergine, and tangy homemade tomato sauce makes for the ultimate comfort Italian dish!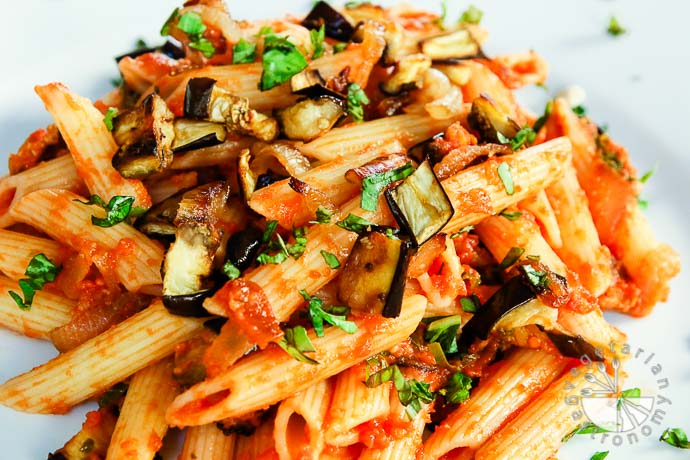 Prep time: 15 mins
Cooking time: 40 mins
Serves: 6
Ingredients:
6 cups diced aubergine, ~ 1 large Italian, or Black Beauty Aubergine
1.5 large white onion, peeled, halved, and thinly sliced
1 lb. penne pasta, for gluten-free, use brown rice pasta
Splash of cooking wine
Olive oil
Salt
Freshly ground black pepper
Vegan Parmesan cheese, optional
For Sauce:
8 cloves garlic , minced
28 oz. can diced tomatoes
1/2 cup basil , chopped + some for garnish
Crushed red pepper
Olive oil
Freshly ground black pepper
Salt
Sugar, a little if needed
Method:
To Prepare the Roasted Aubergine:
Preheat oven to 400 degrees.
Toss the diced aubergine with some olive oil (enough to coat the aubergine).
Line a baking sheet with parchment paper and place the aubergine in a single layer on the parchment paper. Bake for about 25 minutes until cooked and fully roasted (slightly browned, but not burned).
To Make the Caramelized Onions:
Heat 2-3 tbsp olive oil on a non-stick large pan on low-medium heat. Add the thinly sliced white onions and an pinch of salt, and saute until they become completely translucent, slightly brown, and just caramelized (~25 minutes). Be sure to mix frequently. If you find that the onions start sticking to the bottom of the pan or start to burn, feel free to add a little more olive oil.
Once the onions are caramelized, de-glaze the pan by adding a slash of cooking wine to the pan.
To Make the Sauce:
Heat 3 tbsp of oil in a medium sized pot on medium heat.
Add 8 cloves minced garlic and some dried red crushed peppers (more or less to taste depending on spice preference). Fry for ~30 sec. until fragrant. Be careful not to burn them.
Add the can of diced tomatoes. Once the sauce is simmering, reduce the heat to low-medium and simmer uncovered for about 15-20 minutes or until the sauce thickens and reduces to about 2 cups.
Add the chopped basil. Season to taste with salt, pepper, and white sugar (if needed). Cook for another 5 minutes. Turn off the heat and set aside (note: if you are almost done with the recipe, feel free to keep heating the sauce at lowest setting possible to keep the sauce hot until the pasta is ready).
To Assemble the Pasta:
Set a large pot of water to boil. Add a generous pinch of salt and a drizzle of olive oil. Once the water is boiling, add the penne pasta and cook al dente.
Add the roasted aubergine to the de-glazed pan with caramelized onions.
Add the hot tomato sauce and cooked penne pasta. Toss everything to combine.
Season with salt and pepper to taste. Garnish with some freshly chopped basil.
Top with some fresh Parmesan cheese (omit for vegan option), and serve hot!
Dessert
Dark Chocolate Mousse
(Vegan & Gluten Free!)
This healthier 4-ingredient decadent mousse is dairy-free, rich and creamy, and easy to make!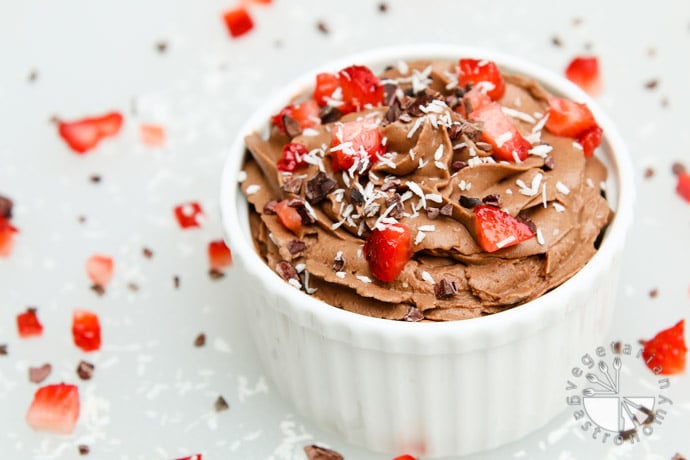 Prep time: 15 mins
Total time: 15 mins
Serves: 3
Ingredients:
15 oz full-fat unsweetened coconut milk
4 tbsp powdered sugar, or maple syrup
1/2 teasp vanilla extract
3-4 tbsp unsweetened dark chocolate cocoa powder
Toppings of choice – cocoa nibs , fresh fruit, nuts, shredded coconut (optional)
Method:
Place the can of full-fat coconut milk in the fridge overnight for at least 24 hours.
Chill a small-medium size bowl in the freezer for a few minutes.
Once you are ready to whip, remove the can from the fridge without shaking it. Slowly turn it upside down, and then open the can.
You will see the liquid coconut milk (the part that did not solidify) will now be at the top of the can. Slowly pour out this liquid into a bowl or cup. This coconut milk liquid is not used in this recipe, you can save it to make a green smoothie.
Once you have poured out the liquid, the part that remains is the hardened coconut cream.
Scoop out this coconut cream into the chilled bowl (note, do not use too large of a bowl otherwise it will be difficult to whip).
Using a stand mixer or a electric hand mixer, beat until fluffy. Start on low speed and work your way up to a higher speed until you start to see stiff peaks forming.
Half way through, add the sweetener, vanilla extract, and cocoa powder and continue to beat.
Sprinkle with any toppings if using and serve immediately or store in the fridge in an air-tight container.