As The Nights Draw In…
With the summer season behind us, three things spring to mind.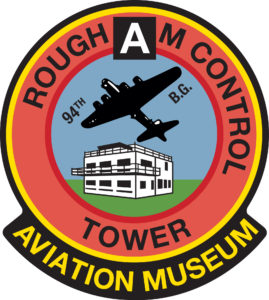 Firstly what have we over the next few months?
Dates for your diaries: –
Sunday 24th November –
Annual General Meeting.
11.00 hrs. All members welcome.
Please bring your membership cards for the voting process.
Tuesday 26th November
Bob Archer (photographer and journalist) presents a slide show on USAAF aircraft of World War 2.
£5.00 entry will include food (chilli or soup).
(For catering numbers can you please contact us by e-mail info@rctam94th. Doors open at 7:00pm.
Talks start around 7:30pm. Tea and coffee always available at a small charge.
Please note the Public Speakers Meeting will 'rest' for the winter months and resume in March (Tuesday 31st).
Sunday 8th December
10.30 hrs. for 11.00.
Departures Memorial Service
All are very welcome. The ceremony will feature a wreath laying by the Museum
volunteers and external groups who support us, followed by a talk on the airfields past and light bullet lunch.
Secondly, we have a maintenance program for both internal and external (subject to the weather) projects. We would greatly appreciate any practical, help if you are able. There are always small (and larger) jobs to do – from cataloging, stocktaking, to repairs and refurbishments. All assistance is a fantastic help to maintain the high standard of the museum and protect its future.
And Finally – Our Winter Appeal. To continue the successful expansion of the Museum we are always looking for relevant material. USAAF information, documentation, memorabilia, B-17 photographs, records (logs etc.), – either on a loan or donation basis. Please see if your past family relations, with any links to the airfield, have items that can improve our knowledge of the airfields (and the towns) history. We are also always looking for items that have RAF and WD (War Department) relevance.
We continue our appeal for model cars, aircraft, military vehicle, aviation books, model kits – anything aviation and more, that we can sell from our "Green Tent' at next years local fates and shows. Please contact us and (subject to distance) we will arrange delivery to the museum or collection.
So that's it for this month. Please join us for the events as planned, especially the Remembrance Service. We Will Never Forget.
See you next month, take care.
Our details: www.rctam94th.co.uk
E-mail: info@rctam94th.co.uk
Telephone: 07931 971771