The 114-acre Suffolk Park business, manufacturing and logistics scheme is now a reality with the bulldozers on site building the estate roads and the landscaping contract is underway to ensure that the project integrates harmoniously into the surrounding community.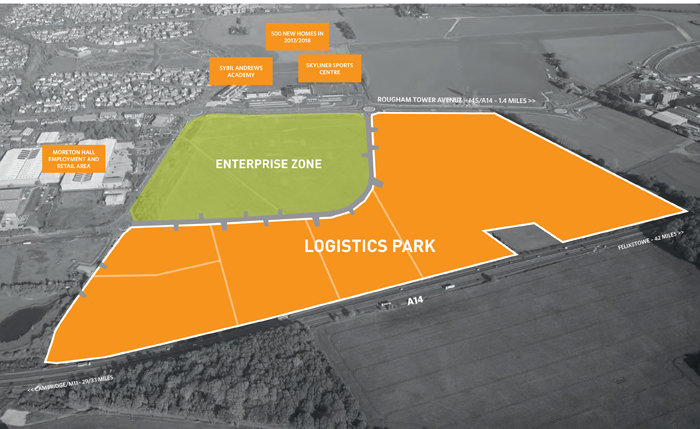 The developer Jaynic, which has undertaken other developments in Haverhill and the Cambridge area, recognises the importance of the communities where it builds.
This is especially true of Suffolk Park which is being developed on part of the Rougham Airfield that played such an important role in World War II with both British and American air forces defending our shores and setting off for numerous bombing raids over Germany.
In recognition of the park's historic links with the World War II airfield there will be two information boards installed along the parks cycleways on Rougham Tower Avenue and Suffolk Park's main estate road for viewing by members of the public.
The information boards were designed in close co-ordination with Rougham Control Tower Aviation Museum to raise awareness of the site's historic significance. In addition, stainless steel markers will also be installed throughout the park marking where the original airfield runways cross today's estate roads.
Ben Oughton, Jaynic's Development Director, comments: "We respect the interest that the community has in this piece of the town's important history and are delighted to be able to make our contribution to ensuring that it is not forgotten by putting in place the information boards and steel markers."
At the same time as recognising its history, Jaynic is also making a substantial contribution to the way the park will look by establishing the landscape infrastructure for the long-term development of the park with attractive tree planting along the estate roads together with woodland buffers in wildlife corridors on the outer edge of the estate.
Installations will also include bat and bird boxes as well as reptile hibernacula, 2m round mounds of earth, stones and branches that provide winter hibernation sites for reptiles.
To enable this work to go ahead Jaynic has benefited from an innovative agreement with St Edmundsbury Borough Council who provided a £3m loan facility agreement towards the road infrastructure and landscaping.