Infusions Group to take to the sky for My WiSH Butterfly Appeal.
On Saturday 28th September, 5 brave volunteers from Bury St Edmunds based business Infusions Group, which owns the ICE Café, plus 2 friends are taking the plunge from 13,000 feet (2 miles high!) at Beccles Drop Zone in a sponsored skydive to raise funds for the My WiSH Charity.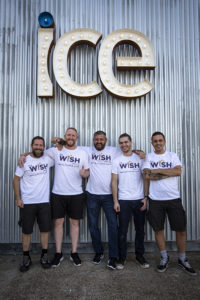 The company thrill seekers are Customer Support Manager Paul Bluett, Warehouse Supervisor Dylan Mitchell, Sales Team Member Piers Symons, Driver Andy Moss and ICE Café Chef Tom Jonaitis and the boys are being joined by friends Rob Newman and Wayne Hailstone who volunteered once they heard about the plan. The group chose to take on the challenge after hearing My WiSH Head of Fundraising, Sue Smith, speak passionately about the charity's Butterfly Appeal at a recent staff quiz night for the charity, which the Infusions Group have chosen to support as its charity of the year 2019.
The Butterfly Appeal, which is due to be officially launched in the next month or so, is aimed at supporting the hospital's huge proportion of palliative and end of life patients and My WiSH Charity works closely with staff to find out what is needed and where it can help to ensure relatives, friends and loved ones are cared for too as this in turn, gives the patient comfort. Packs are created when someone is called unexpectedly into hospital which consists of tissues, water, wipes, toothbrush and toothpaste among other things. Just little things to make patients more comfortable during their stay. They also provide day beds and are seeking to purchase more as they allow relatives to stay with their loved ones but also get some much needed sleep whilst never leaving their side. It also pays for training so that the nurses can learn how to administer pain medicine without the need to wait for a doctor.
Jumper Dylan Mitchell has mixed thoughts about the jump, saying: "I'm excited for the jump and fingers crossed all goes well! I'm going to be conquering two phobias doing this jump – flying and heights… I regret it already to be honest, but it's a great cause and if I can support it by raising some funds while crossing something off my bucket list then it's a win win!"
Another jumper, Piers Symons, had a few less nerves about the jump. He said, "I'm confident and excited. It's something different to do with colleagues. I'm looking forward to watching colleagues jump from a plane whilst I sit back and laugh!"
Sue Smith, Head of Fundraising at My WiSH added: "We are so grateful to Infusions Group and ICE for their continued support and to these amazing guys who are willing to jump out of a plane to raise money for us! The money they raise will make such a difference to our end of life patients and their loved ones and we can't thank everyone enough".
If you would like to donate to the cause, or find out more information, please contact Sarah Stamp at sarah@infusionsgroup.com.